---
Shropshire Shepherds Huts & Pods 
Affordable luxury living space.
Shropshire shepherds huts & pods can provide you with additional living space that is easily affordable.
An office, granny flat, therapy room or children's playroom? Or how about a studio or quiet room for a bit of me time?
The list is limited only by your imagination.
Our shepherds huts offer a romantic alternative to conventional bricks and mortar buildings at a fraction of the price.
Here at Shropshire shepherds huts and pods  we can help turn your dream of owning your very own shepherds hut into reality. Our huts use a solid wooden frame and have the traditional cast iron wheels of old. The corrugated roofs are also true to the original design.
We can also use galvanised gladding in a arrange of colours.
As you're reading this then you're probably considering buying a shepherds hut and wondering where to start.
We can help by working with you on the planning and design of your hut. We can help with the complete layout of Your hut
Our traditional Shepherd's huts are hand built in from Church Stretton, Shropshire by craftsman Tony. With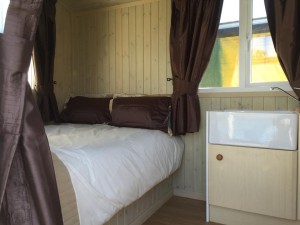 over 30 years in the building trade Tony has always had a passion for working with wood and timber and loves the challenge of bespoke designs.
How we started
We built our first shepherd hut for our own use in 2011. We then had requests from friends to build huts for them too. Then friends of friends. In fact we've even had strangers knocking on our door to find out where we had sourced our shepherds hut from.
Eventually in January 2015 we took the plunge and set up Shropshire Shepherds Huts & Pods and now build pods & shepherds full time.
Our prices  are very affordable and all of out huts are made bespoke
We'd love to help you with your very own luxury shepherd hut.
As stated we offer good old-fashioned service and advice and will guide you through the process from start to finish.
Please note we pick up emails and reply within 24hrs if you do not receive a reply within that time please feel free to give us a quick call.Or email directly rather than use contact form to shropshireshepherdshuts@gmail.com
We look forward to hearing from you.
For a brief history of the shepherds hut click here.